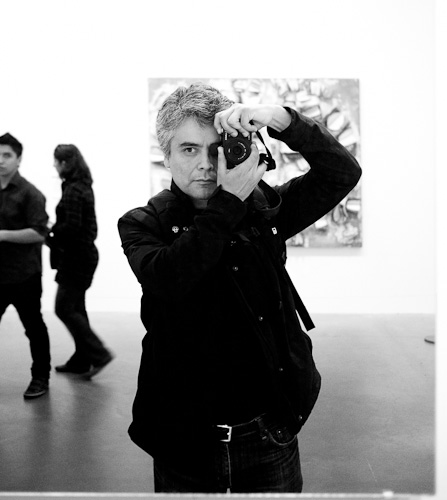 I am Daniel M German, professor in the department of computer science at the University of Victoria. My duties are divided along two main areas:
Research. My main area of research is software engineering. In particular, software evolution, open source and intellectual property. In my spare time I do research in computational photography. A list of my papers can be found here.

Teaching. I teach several courses at Uvic, primarily Database Systems (CSC370), Social and Professional Issues (SENG401), Media Applications (SENG410) and more recently Intro to Software Engineering (SENG265). This year I'll be teaching Programming Languages (CSC330) and Data Management and Visualization (CSC 371).
My hobbies
My hacking. I enjoy programming. Here are a bunch of project I have worked on in the last few years.
My telephone number is 250 472 5790, but it is usually easier to email me (dmg [a t] uvic [period] ca). My office is ECS 560.
Public key
This is my GnuPG public key. Just in case…
-----BEGIN PGP PUBLIC KEY BLOCK-----
Version: GnuPG v1

mQINBFSg/dcBEACuQErSe6/4KQREYe98w/VNpn4afEVhwAvEWjnHV37VAArY0uOF
JnYokhljk9jFgicPSNSSMe3CTB/qXBZ+yJGQKi4JchaoTnlltVvf/EOJ3W6OiAsx
VBQhyOhQFa2qEF00fCeZcL0xm9IFGrKCFSaIZXlKejSFRScH62lxyTEdEkVlADyh
NoaEgTXnPDpWRYyKEShIqWIyhrytHkn5ffp+iBKuFtm2IL075a7F9S2pi8fOuoFJ
RYui1tj7qaFk+6fPwUMttiI8iRjjlL3dhE4j42+U7RlRTZUDaP8BJa+H6LGyKsbA
dWlggSVCkEs8bI094HfQv8iZqJSuDYwZdtwZMNStl+OsaBvLIuuZt+NzBsM7xSZN
Xq68Q9ZYuc2/odwlWftiu/8gqZSMWwTF9qfsOCqUdm9WCp5c67vpR3IzekLaJa8/
BAA+EkFk+0bUeI9CNCXNkaVRDFN+TtygA94ri9iIsGr5HRB+wlxtY/xy8w0t1O1g
2om/13XQsZT9x0emw9FEOymNtngCcyAT5bngcMoP70Yy/T26g4FbpbaZvnFw0e8s
tF7IGGaVq2V6+HS8SW29z+VUt+4pr2HnibjStkwaNR68W2nNp3TLnNEocmfk99V7
pkF6SiRz5XPriO2FIceR6+sCufr5A134W5KzVvAIDmr/oyn4rENZJXVZYwARAQAB
tCdEYW5pZWwgTSBHZXJtYW4gPGRtZ0B0dXJpbmdtYWNoaW5lLm9yZz6JAj0EEwEC
ACcCGwMCHgECF4AFCwkIBwMFFQoJCAsFFgIDAQAFAlShxV0FCQWkYf4ACgkQSwqT
yvYX5QtaLg/9HU0+BwhddK7LLfTc0FaLhnMFwl4roTvsHpa24qtCZd6uPt6atb0k
n2wVEMHLdR9wdsxoDcsvy/qtu2L7yRt8XnYEYzwaij8irrDUN+6QQsNiwejLhHFh
PCADDlJ16pnQ9fW+Au1R44soWg6HFjhHSHOWGVq73bGKi6lNLDYOLiZCrFb8pV5m
gaCFGe+htVaG/imAez16RKYphyH0Ql19lhZ6lHusHz+SmpXG+6G44DKvqjtlIqJd
8zo4Xu9iH5NK5oZFpO6k9pbm1MSWEJmu6a3qzCvYWk/i3gTerEbV179f2SWk/D7C
C+6zwf0AqFgqscURCec2gpA7VSe1kmIcGJwrDEytUcCdl4YPobuLmpJb2S8fFcEn
kE/WdZU+pQ7VEa+yzZVT4NwwkGSwqseJEUKKW2uuU//o3vOhMbnuB4Kl1ZftmXfh
x5SXVimbV5/ZMhGcVr7QuYslKp8OMwhC5Y1oggFO2QN9/4qBrwkt8BvodIQsFGF6
PDZUdKnHAbejXnyEAPk64Hymi6shDCzEvo7e/N76MQfC4Ty1o9ytjp2eOfU2a06w
9aumrdjWj9Xz8RTFnQ3YuuJ/DFP8cjTJDUbUGzbC4uf+AMUwOTLHdCCcnJR3mi3V
B4vn6t7KwoP7eZLb2ymPIuzRUh5pRPmjpdthhXn0H/GMqImT6OvFPVS5Ag0EVKD9
1wEQAK6soFeHv8hY4ipL0YfdYtf21xSLeM6fTloJSnqz1glXGqFWfqBUYJQCBrsO
8LMdzItV9814ffrKpH2u4jmItKIe/8KW79NbUCKq122jloP2g2RNZIMySjYUhq0n
MUPEQcWTARdwNqGf5SACh1mA/bHmRVr3T2X0VjBaof65t89xbxILjl/AXUIGVj3g
2BxIseQ34/WdQhRlLb9FYiYwtn51FA4J17FlQDVCFxhDodtAOqtGAQMBbWrOzwxD
9nPxRkz/JyjONqfHoz0fimMEVQ8WXO6Opqum6YSy/Jo9X3uCqsisaZwRxw4hT9uj
dCzzGb4YAtNDBINpGMs60m6Sqofs41vOfbjecWwe65h2Ne7kxiGUzlpiyReVq1KG
VpB2NDQ2VYo0IrVkvmVCSrD9D4yzmTLnYXzFulKGvY95G/ddMv6Rgli9gmAhFnEi
+WgtTZNwJzeHWy7Xkt1bB/rT3v0Zg5jattFTAp9BqirvyZNZFP3iA0h3uSdH0Vop
RZu11YvCcDo3GN0/vsxalACH++NfbkoDjDtnOl7At3dLtEYCc2dWrZqxKbIy+VWb
J0KeVp20I4s1QMoSFukb8T1eIU+8bvPuhcLEMbo4efPejKQ8FsnLNJKtpoq/agIh
huXma0LPcPXKTScJiN2/3rc97ZBus1zzrFVVrJo4zjNcOEi9ABEBAAGJAiUEGAEC
AA8CGwwFAlShxdAFCQWkYnYACgkQSwqTyvYX5QtU8A/+Pvo9sM95pJemuCwHVvtm
Mg5T0VLd7ica4XEKMbnApCIHNZqHiP4GOglsEFLr0y8LY+rM0gXpuJuCO4UdxFvG
wnZsvSay2aGgmy1aoSC1LnLa2vB2g3e6d67Gqnivrblrsfv9DhyWLhLMmqoUUgme
DBb8l8YOgh8OlJEqOD8OXx1hW8qF2qVQVhE0VC6dW6vyCXFDwyu2RooQ8MhCv7qk
7yi0z0s8FZ0r4PLkYIX/FcCG6ejrBuFOKeV2yOkWGM2jN6FM7WNSqU94WUqqIv+P
77beeM0s5joiQNL7lGp6qK4Yrnm6HCn9r2tjVTFxNp9IRYn1bs9Sd68VlMJOsRVf
d+Qm6QiGgVCDn2H39n7VSLqwGpGRlgAS8c8/TqL6QuQ6AMxSezDRh1JZTn8Cz/0f
dKOw/yQp0DbgJfBwUpxixLPAtRlpnheCjV3pxVQOKsJNBdQgE5B9Fl2NWgPos39u
NuWWLv46cNWvVwATI7ZAHDSxy3+duRCvpM3MZvCTMguytD+ncWsK2hNp9rfi0+bU
YWM/zhkWVLur4CfQttgws6SEvcvC2YrdWz1m+6KQH7qTG0ge9+p/ORqzoynbTFbn
dgcxMMCbuoPitHieBinkZZ+EsB0hxBzKUtut2f+gKkP9x4MPsLX2xTsC/DKzzkjZ
hmjEs01vykngUO4phuNrNbE=
=Kk+L
-----END PGP PUBLIC KEY BLOCK-----